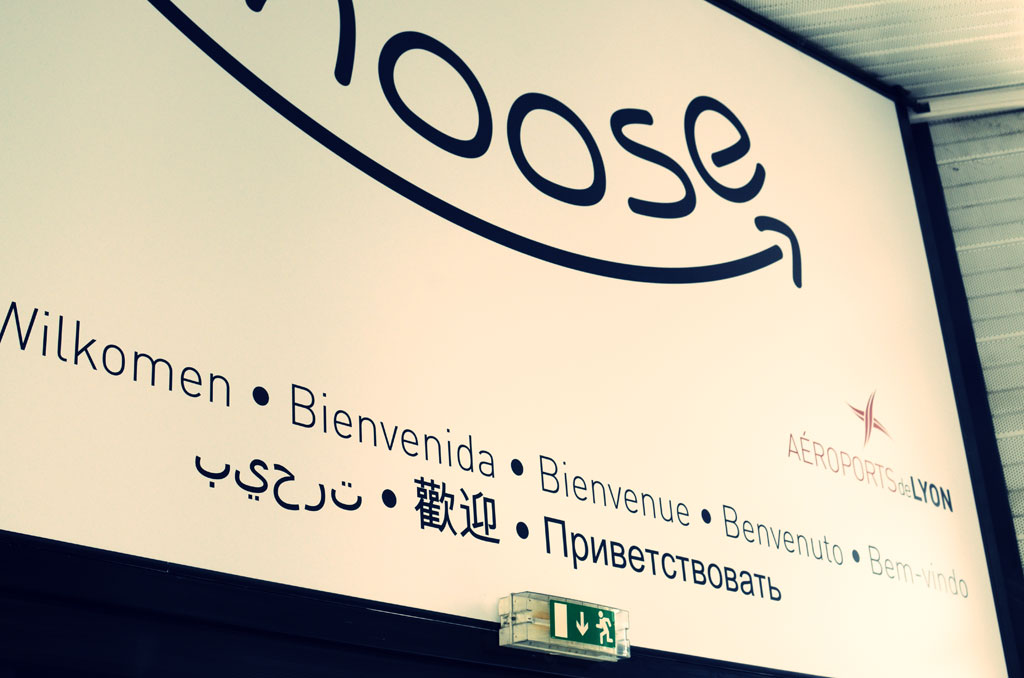 Last week I spent an enjoyable 2 days in Lyon, visiting Alice Savoie at the interesting Musée de l'imprimerie de Lyon to further my research on the evolution of Arabic type. It was a delightful stay with great company, friendly people and lovely food (Merci Luc!). Yet, the airport's welcome sign made me shudder.
You would think that some 60-odd years of efforts to bring France and Germany closer together and to overcome past issues would have had substantial effects. Not least since we had to bear Merkozy, are now curiously watching Merde (or was it Merklande?) and love ARTE's Karambolage, the two countries at the heart of the European project appear to know each other better.
But the airport of beautiful Lyon, with admittedly minor international credentials, proves us wrong. Not only is there the almost expected Arabic type catastrophe (shouldn't have set that on a Mac, mate), but also visitors of German tongues are welcomed with the equivalent of Behvenü! Aéroports de Lyon, vous avez besoin de moi.
Madame, Monsieur les responsables de l'aéroport de Lyon,
Si jamais vous n'avez pas compris le contenu de mon posting, je vous prie de bien vouloir me contacter pour des informations supplémentaires. Vous avez également la possibilité de consulter des sources en ligne, comme les outils peu connus de Googèl, dont Googèl traduction serait le plus utile pour vos besoins:

Je suis avec un dévouement respectueux, Madame, Monsieur,
Votre très humble et très obéissant serviteur.